Classes Offered
Puppy Socialization:  
Discuss and solve problems:  crate training, jumping, excessive barking
Learn about grooming and examining your puppy

Walking puppy properly on lead and basic obedience commands.
Graduate Puppy:       
Reinforce properly walking on lead
Reinforce basic obedience commands:  sit, down, come, heel
Have fun with your puppy
Beginners Obedience: 
Continue learning basic obedience commands
Proper heeling and dog sitting in heel position when handler stops                                                  
Dog learns to come to "front" when called
Dog learns to return to "heel" position
Novice Obedience: 
Learning commands to perform for AKC Title:
Heel on Leash; Stand for Exam; Heel Free (off leash); Recall;
Long Sit (1 minute); Long Down (3 minutes)
Open Obedience: 
Learning commands to perform for AKC Title:
Healing pattern off lead; Stand for Exam; Drop on Recall;
Broad Jump; Retrieving Exercises; Long Sit (3 minutes); Long Down
(5 minutes)
Utility: 
Learning commands to perform for AKC Title:
Signal Exercise; Scent Discrimination (2 different articles); Directed Retrieve'
Moving Stand & Exam; Directed Jumping
CGC:
The Canine Good Citizen (CGC) class is based on a program started by the American Kennel Club (AKC) in 1989 to teach dogs basic manners at home and in the community.  The class teaches basic sit/down/stay/come commands as well as walking on a loose leash and politely greeting people.  This class is often the first step toward a foundation for other AKC events and therapy work.  This class is NOT a therapy dog certification.  The official AKC CGC test is offered at the conclusion of this 8 week class.
Rally:
Stations are set up and dogs and handlers learn the signs and perform as instructed at
each station.
Agility:
Dog needs to have basic obedience and performs on jumps, tunnels, dog walk, teeter, A-frame, etc.
Companion Dog Training Class (New!)
This is an 8 week class beginning on January 13, 2022 and ending on March 3, 2022.
The first class session is required, and is for owner/handler ONLY. NO DOGS during this session. Equipment expectations and training methods will be discussed during our first session.
During your time in this class, you and your dog will learn foundation behaviors and basic obedience. Foundation behaviors are critical for establishing a positive relationship between you and your dog, and offers a spring board for ongoing training and learning.
Each dog may be accompanied by two family members during class.
This class follows non-aversive training methods taught by renowned trainers Karen Pryor, Turid Rugaas, Nicole Wilde, Patricia McConnell and Jean Donaldson.
Training is such an important part of developing relationships with the animals in our lives; it is important to start that relationship in the clearest possible way.
Myself and Packerland Kennel Club are excited to welcome you to this new and expanded training class.
– Cheryl Sulewski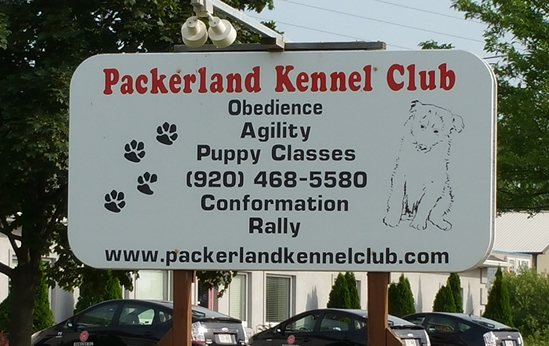 Agility Class Video:
Obedience Class Video: